Reinders, H., Nunan, D., & Zou, B. (Eds.). (2017). Innovation in language learning and teaching: The case of China. Palgrave Macmillan.
You can buy the book
here
.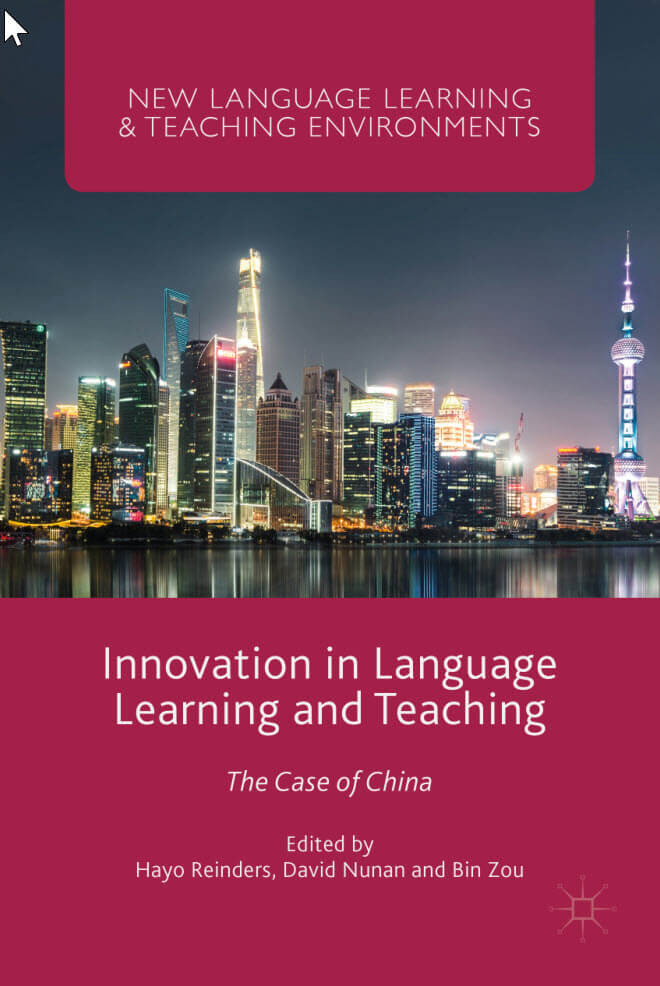 The book
Innovation in language learning and teaching is subject to a complex interplay between global and local influences on language policies, curriculum development, the implementation of new teaching methods, and the integration of technology. China in particular has been through frequent periods of significant change in language education with a major education reform in recent years, increasing competitiveness in education, as well as a broader paradigm shift in education towards greater learner-centredness, EFL/ESL/ESP/EAP teaching, corpus, technology, etc.
Local responses to these changes have been varied and dynamic. Areas that have seen particularly significant changes are those that will be familiar to readers from many contexts around the world, including the integration of technology, the search for more effective teaching methodologies, the benchmarking of language education outcomes against global indicators, and the significant increase in the number of bilingual and international schools and programmes, at all levels from primary to tertiary education.
These changes have prompted intense debate and a fundamental reconsideration of the roles and forms of language education, with both uncertainty and promise for the future. As many countries have experienced similar changes in recent years, the well-documented experiences and lessons learned from this fast-changing country will provide invaluable information to better plan, implement and support developments elsewhere.
Therefore, this book brings together the experiences at all levels of Chinese language education, from government to public and private education to business and industry, to identify the origin of the processes of change and the factors influencing their success. Each chapter deals with a particular innovation or an innovation in a particular sector, and is carefully structured to provide enough background information to understand its specific context, while drawing broader implications for educators in different contexts or countries.
Proposed Contents
A number of chapters have already been commissioned. These include, tentatively:
Foreword: Phil Benson
1. Innovation in Language Education in China: an Overview
Professor Hayo Reinders, Anaheim University (US) and Unitec (NZ)
Professor David Nunan, Anaheim University (US) and University of Hong Kong
2. Issues and Options for language teaching in China
Professor Qiufang Wen, Beijing Foreign Studies University
3. An argument approach to test fairness: Curbing cheating through innovations in
large-scale language assessment in China
Professor Yan Jin, Shanghai Jiaotong University
4. Facilitating transformative learning towards productive bilinguals: Innovations in
teaching intercultural communication in China
Professor Yihong Gao and Xuan Zheng, Beijing University
5. From EAP teaching to English medium instruction: Innovation in EFL curriculum
design at a Chinese university
Weimin Zhang and Hao Zhang, Tsinghua University
6. Utilizing Multifaceted Portfolios to Develop Chinese EFL learners' Writing
Competence: A Genre-based Investigation.
Professor Liming Deng, Wuhan University
7. Doing English media literacy: A global approach
Prof. Wei Zhang, Beijing University
8. Learning to speak in an exam-focused world.
Professor Don Snow, Duke Kunshan University
9. Innovation in alternative assessment
Professor Jun Liu, University of Arizona (US)
10. Innovations in learning Chinese as an L1 and an L2: Retrospect and prospect of the corpus approach.
Professor Jiajin Xu, Beijing Foreign Studies University
11. Where should ESP in mainland China be focused: a wide-angled approach or
narrow-angled approach?
Professor Jigang Cai, Fudan University
12. The implementation of EAP instruction in local universities in China.
Dr. Beibei Zhao, Zhejiang Shuren University
Dr. Guoxing Yu, University of Bristol (UK)
13. Chinese language teachers' beliefs and practices in promoting learners' intercultural communicative competence: The case of Shanghai
Dr. Citing Li, Shanghai International Studies University
14. Innovation in Language Education in China: Future Directions
Dr. Bin Zou, Xi'an Jiaotong-Liverpool University
Professor Hayo Reinders, Anaheim University (US) and Unitec (NZ)