Reinders, H. & Lewis, M. (2014). Facilitating workshops. Palgrave Macmillan.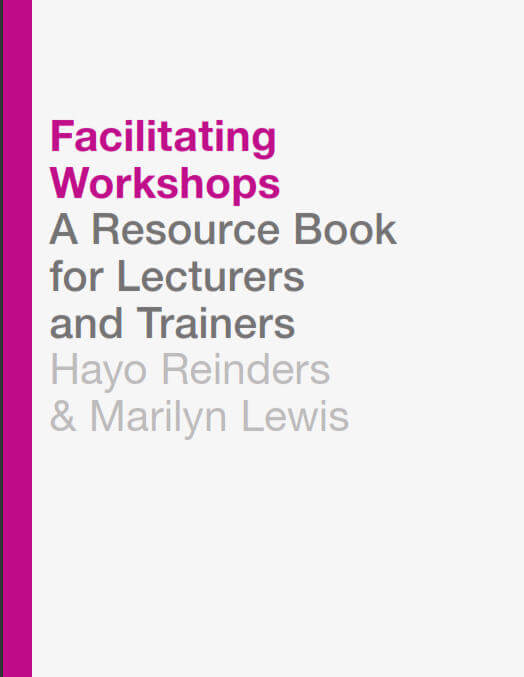 'Reassuring, search sensible advice about the topic of workshops with sound theoretical underpinnings to support its immensely practical ideas…a very positive and welcome addition to the literature.' – Dr Bill Dunn, Professional Development Adviser, University of Oxford, UK

Workshops are one of the most powerful educational tools available. Lecturers, teachers and trainers use the workshop format as a way of engaging students in a more participatory and learner-centred process than the traditional lecture. Teacher-educators frequently offer workshops at conferences and at formal in-service courses. What they have in common is that frequently they do not have explicit training for these roles.
Facilitating Workshops focuses on the workshop as one of the key tools in the lecturer/trainer's repertoire. It identifies the unique features of workshops and answers questions that new lecturers, trainers and teacher educators commonly ask about organising and presenting them. Using these questions as the starting point, this resource book offers an accessible review of current theory, as well as practical advice and samples of activities and materials.
'This is an excellent book that offers something for both the experienced lecturer and the novice. One of the many strengths is the way the book interweaves theory and practice, exploring the best ways to facilitate workshops and providing the underlying theory to support these ideas. The authors are both highly experienced practitioners and have provided an extremely readable text that is positively brimming with good ideas.' – Rob Abbott, Senior Lecturer in Early Childhood and Education, University of Chichester, UK
table of contents
Introduction
Workshop concerns
Part 1 – learning in workshops
Why workshops?
A brief history of workshops
Principles of adult learning
Individual differences
Motivation
Affect
Learner autonomy
Adults as social learners
Adults as experiential learners
The experience of learning in workshops
Part 2 – teaching in workshops
The experience of delivering workshops
Planning and organising workshops
Workshop contexts
In the workplace
In informal settings
Online
Fieldtrips
At conferences
Setting goals
Planning workshop activities
Categorising and selecting activities
Bloom's taxonomy
Categorising activities by types of thinking
Workshop activities
Ice breakers and energisers
Case studies
Discussion
Analysis
Role play
Show and tell
Interviews
Demonstration
Performance
Creation
Games
Projects
Sequencing content and activities
The facilitator's input
Feedback and assessment
Delivering workshops online
Professional development for the facilitator
Part 3 – The practice of facilitating workshops
The 'when' of workshops
Timing issues
Participant issues
Determining your audience
How many participants is right?
Too many or too few ~
Handling signs of boredom
Different types of ~
Great diversy of participant needs and interests
Unwilling to participate
Determining your audience
Organisational issues
Handling breaks
Closing
Technical issues
How to make the most of technology
Online workshops
When the technology fails you
Using a microphone
Space issues
What is the optimal environment for a
workshop?
Inadequate facilities
Inadequate seating
Cultural issues
Presenter issues
Stage fright
Not enough preparation time
Last-minute substituting for a sick colleague
First time facilitating
Choosing a delivery style
Content issues
Finding good content
Copyright and privacy issues
Mismatch between goals and actual needs
Too much or too little content
Dealing withorganisers
Negotiating content
Negotiating the length of the workshop
Negotiating remuneration
Declining invitations
Organising your own workshops
Promoting workshops
Evaluating workshops
Giving workshops to colleagues