Editors: Terry Lamb and Hayo Reinders
Brief description:
'Innovation in Language Learning and Teaching' is an international refereed journal devoted to innovation in methodologies and pedagogies for language teaching and research. It publishes research articles, applied 'innovative practice' articles and book/materials reviews relating to different approaches to, methods for, and modes of language learning and teaching.
Aims and scope:
* To publish research into the theoretical and methodological bases of the field of language learning;
* To explore pedagogies and methodologies with a learner-centred focus;
* To encourage dissemination and cross-fertilisation of policies and practice relating to innovation in pedagogies for language learning in different learning contexts.
Currently there is no other journal which offers an interdisciplinary platform for those interested in innovative pedagogies and methodologies with a focus on learner-centred approaches to language learning. This includes areas such as:Collaborative learning, Constructivist approaches to language learning, Distance learning, E-learning, Flexible learning, Language Awareness, Learner Autonomy, Motivation and language learning, Self-access language learning, as well as a number of related areas, such as: language learning curriculum, learner advising/counselling, learner biographies, learner training, learning strategies, learning styles, metacognition, policy and its role in pedagogical and methodological change , resources for language learning, self- and peer assessment, self-management, tandem learning, teacher autonomy, technology and language learning.
Innovation in Language Learning and Teaching is noted in: Contents Pages in Education, Current Abstracts, EBSCOhost, Linguistics and Language Behavior Abstracts, MLA International Bibliography (Modern Language Association).
Sample table of contents: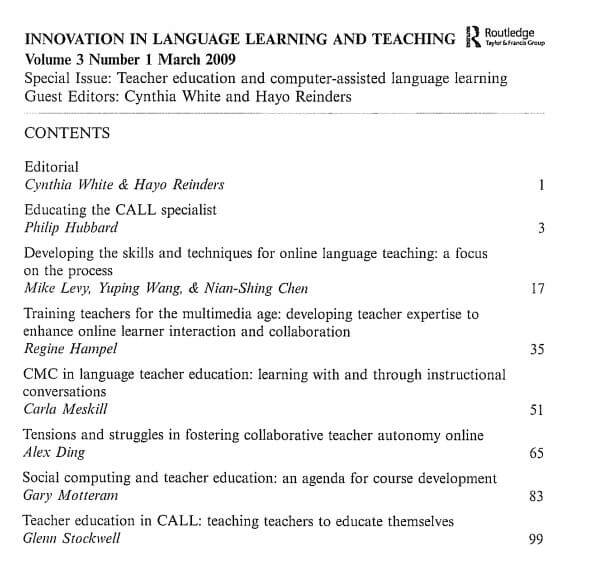 Review editor Desiree Castillo, Universidad Autonoma de Mexico, Mexico
Editorial board
Phil Benson Hong Kong Institute of Education
Carol Chapelle Iowa State University, United States
Jim Coleman The Open University, United Kingdom
Pornapit Darasawang King Mongkut University of Technology, Thailand
Leslie Dickinson Formerly of Moray House Institute of Education, Edinburgh
University , Scotland
Zoltán Dörnyei University of Nottingham, United Kingdom
Rod Ellis University of Auckland, New Zealand
David Gardner University of Hong Kong
David Singleton Trinity College, Ireland
Manuel Jiménez Raya Universidad de Granada, Spain
Mike Levy Griffith University, Australia
Leo Van Lier Monterey Institute of International Studies, United States
David Little Trinity College, Dublin, Ireland
Joe Lo Bianco University of Melbourne, Australia
Christine Nicolaides Faculdade Centro Cultural Anglo Americano, Rio de Janeiro, Brazil
David Nunan University of Hong Kong
David Palfreyman Zayed University, United Arab Emirates
Jack Richards Regional English Language Centre, Singapore
Willy Renandya Regional English Language Centre, Singapore
Barbara Sinclair University of Nottingham, United Kingdom
Turid Trebbi University of Bergen, Norway
Amy Tsui University of Hong Kong
Flávia Vieira Universidade do Minho, Portugal
Anita Wenden Professor Emeritus, City University of New York, United States
Cynthia White Massey University, New Zealand
Review board
Kathleen Bailey Monterey Institute of International Studies, United States
Sara Cotterall Akita University, Japan
David Crabbe Victoria University Wellington, New Zealand
Edith Esch University of Cambridge, United Kingdom
Hilde Hacquebord University of Groningen, the Netherlands
Henri Holec Professor Emeritus, CRAPEL, Université Nancy 2, France
Shawn Loewen Michigan State University, USA
Ernesto Macaro University of Oxford, United Kingdom
Thang Siew Ming National University Malaysia, Malaysia
Richard Smith University of Warwick, United Kingdom
Ema Ushioda University of Warwick, United Kingdom
Sergio Valdivia Universidad Veracruzana , Mexico